When it comes to wildland firefighting, only the most capable firefighters are considered qualified for the job. That is why hotshot fighters are assigned to fight against the toughest wildfires for weeks. So, what are hotshot firefighters?
Officially known as the IHC or Interagency Hotshot Crew, hotshot firefighters are part of a firefighting group of 20-22 wildland firefighters. They're qualified and equipped to handle tactical and strategic wildfire assignments. Hotshot firefighters are trained to cover all the stages of fire management from initial attacking to mopping wildfires on local, federal, and state levels.
This team of experts is considered a national resource that's assigned by the NICC. As they work in the hottest zones of the fire, the team is called 'Hotshot' firefighters. Now, if you're interested in the job description and requirements of a hotshot firefighter, keep reading!
How Much Do Hotshot Firefighters Make?
Before we get into the job description, let's talk about the salary first. On average, a hotshot firefighter makes $41,070 every year in the United States. As for the additional pay which includes tips, commissions, bonuses, and profit sharing, a hotshot firefighter can get $2,549 per year.
However, the amount widely varies depending on the position of a firefighter and the city or state they live in. Starting salary for an entry-level firefighter is $14.30 per hour (GS-4). The amount slightly differs in various states depending on the cost of living.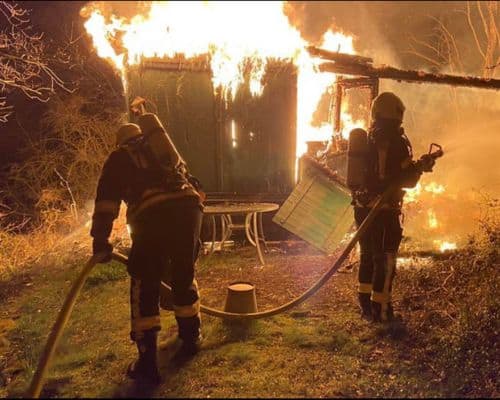 As the basic payment is for working 40 hours per week, a hotshot firefighter can make $572 weekly, $2288 monthly, and $27,456 yearly. You can do as many as 8 hours of overtime per day which will double the pay.
Again, if you're working on Sundays, you'll get 25% extra for that day. Similarly, hotshot firefighters get 25% extra hazard pay if they work on uncontrolled fires. For night shifts, you might get about 10% extra.
So, what about the senior crew members? A group of hotshot firefighters can have two senior firefighters and two or three squad leaders. Each of them can make $16 to $18.92 in an hour (GS-5 to GS-7). Which makes them capable of earning $640 to $757 weekly, $2,560 to $3,027 monthly, and $30,720 to $36,326 yearly.
The hotshot firefighting crew have 2 assistant superintendent/captain and one superintendent. Captains start at $21.95 (GS-8) making it $878 weekly, $3,512 monthly, and $42,144 yearly. A superintendent starts at $24.24 per hour (GS-9) making about $969 weekly, $3,878 monthly, and $46,540 yearly.
Hotshot Firefighters Job Description
Let's have a quick look at the job description for hotshot firefighting. If you want to be a hotshot firefighter, you must take the following responsibilities-
Play your role as a firefighter during wildfire suppression or controlling activities
Become a crew member of a particular group of 20 or more fellow firefighters
Perform burnout and backfire operations
Analyzing topological data and fire weather
Patrolling for locating and removing hotspots from the area
Repair and maintain your firefighting tools such as chainsaws, fire engines, shovels, etc.
Perform under tough emergency conditions
Use shovels, axes, or chainsaws to dig trenches, create lines, and clear bushes to reach the area of fire
Give proper information to the locals regarding fire safety hazards and prevention
Driving fire apparatus and operating two-way radios
Rescuing victims and giving proper medical aid if needed
Maintain physical fitness
Maintenance of fire division structures and grounds
Prepare documents and records related to emergency fire incidents
Participate in training sessions, seminars, and conferences. By doing so, the hotshots learn new technologies related to the fire service. The training sessions are held to maintain their skills.
Perform tasks other than firefighting if the job demands
Hotshot Firefighters Job Requirements
Although hotshot firefighter job requirements vary in various agencies, there are two basic requirements a candidate must fulfil. Which includes –
Hotshot Firefighter Educational Requirements
To become a hotshot firefighter, you must be 18 years old with at least a high school diploma, or GED, or some equivalent degree. The candidates are allowed to join two- or four-year degree programs in courses like Fire Science, Fire Ecology, Fire leadership, Forestry, Wildfire management, etc.
Both a physical test and a written exam are required of applicants. Selected recruits are often trained inside a local training academy. Organizations like the National Wildfire Coordinating Group and the USFA's National Fire Academy also provides training programs.
Hotshot Firefighter Physical Requirements
Being a hotshot firefighter means you must be capable of working in the harshest conditions. Hence, you must maintain a good physique. If you want to be a hotshot firefighter, NWCG requires you to pass the fitness test called Work Capacity Test or WCT.
One candidate should be capable of:
Running 1.5 miles within 10:35 minutes or less
Hiking for 3 miles with a 45-pound weight within 45 minutes
Doing 40 sit-ups in 1 minute 
Doing 25 pushups in 1 minute
The number of Chin-ups will depend on your body weight. For example, you must be able to perform:

Four chin-ups if you weigh more than 170 lbs.
Five chin-ups for 135-170 lbs.
Six chin-ups for 110-135 lbs.
Seven chin-ups if you're under 110 lbs.
How Do You Get in Shape to Be a Hotshot
Before applying to become a hotshot, you should focus on your physique. If you think your body isn't ready for firefighting yet, start training today. Your daily physical training should include running, hiking, and team-building workouts.
Here's an effective routine you can follow-
First, take your backpack and fill it with just the right amount of weight you can handle. Choose a 1-to-3-mile trail for hiking.
Start your walk and try not to stop until you reach the end of the trail. If you take breaks, do some exercises during the breaks like push-ups, flutter kicks, and barbell curls. We recommend doing 100 reps of each workout, but it depends on your preference. Try to hike without pausing to reach the peak of your performance.
Note down the time you're taking to complete the routine. Try to become faster than you are as the time range is important to be qualified in the Work Capacity Test.
What Disqualifies You from Being a Hotshot Firefighter?
Even after passing the physical test and written exam, applicants are disqualified in different stages of the selection process. Common reasons for disqualification include not being physically fit, substance abuse, criminal offence, unstable work history, and driving issues. Below are the details-
Physical Issues
As mentioned, a hotshot firefighter must be in a good shape. If you have a medical condition that needs to be treated using narcotics or steroids, you'll be disqualified from being a hotshot firefighter.
Poorly maintained diabetes and heart disease will also disqualify you. Improper handling of fire equipment is another reason why you might not be selected.
Substance Abuse
Using, selling, or possessing substances like marijuana, heroin, cocaine, and other illegal drugs will disqualify a candidate from being a firefighter. Besides, abuse of prescription drugs also disqualifies firefighters.
You might go through a blood or urine test while applying for the position of a hotshot firefighter.
Criminal Offense
Adult felony, juvenile offender, and serious misdemeanor convictions usually disqualify firefighters. Acts of moral turpitude are often regarded as a disqualifying factor in many states. If you admit to doing a crime that you were not punished for (during the interview or a polygraph test), you'll be disqualified.
Other Disqualifying Factors
Drunk driving can disqualify a candidate or serving firefighter for 5 years. The same will happen if you've records of reckless driving or leaving an accident scene. Tattoos or piercing on exposed skin are also not accepted by some agencies. You might be disqualified for your failure to pay loans and unstable work history.
Are There Female Hotshot Firefighters
Yes, there are many female hotshot firefighters working across the country. In fact, female firefighters make up about 8% of hotshot firefighters in the US. The first hotshot firefighting crew was formed in the year 1940 and the first female hotshot firefighter joined a crew in 1976.
Deanne Shulman created history by joining the ranks of the hotshot firefighting crew called the Los Prietos Hotshots. Later in 1981, she also became the first female smokejumper.
Wrapping Up!
So now you know what are hotshot firefighters, what are their responsibilities and what their wages are. Hotshot firefighters have to work in the hottest zones of fire using some basic tools.
The job is extremely difficult and you must maintain a rigorous physique and pass the fitness test to become a hotshot firefighter. Thankfully, you'll also get a handsome basic salary and about a thousand hours of overtime per year to double the wages.