Not many inventions are as useful as glass in our everyday life. Every house has windows, glassware, and other associated belongings.
It's so abundant and common that one may think of it as a fire risk. That's where one may wonder – does glass burn in fire, or can glass catch fire.
There are many things to know when it comes to glass and fire. Stick with the details to understand the potential fire hazard of glass.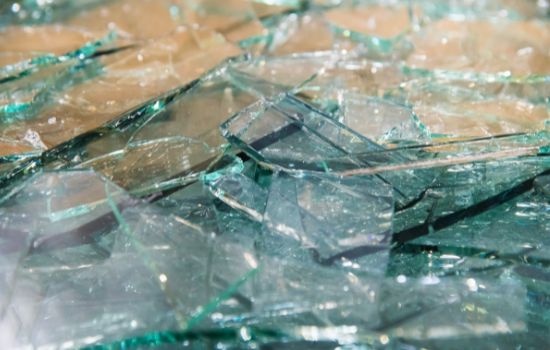 What is Glass?
Glass is an inorganic solid material made from natural sand or silica. It's usually transparent/translucent and preferred in different openings. Also, people have glassware products like jars, plates, and others.
Different types of glasses are available to meet industrial demand. And there are many processes in practice to develop the crystals. However, they are mostly applicable for glass-related special purposes.
The material itself is naturally somewhat hard but notably brittle. Also, it's impervious to almost every common element. It features an extremely stable molecular structure to remain chemically inactive.
Can Glass Catch on Fire?
Glass is neither a flammable nor a combustible material. The super-cooled crystalline material barely reacts with other elements. Even normal fire breakouts shouldn't destabilize the inorganic molecules.
It's important to remember that glass isn't exactly the regular kind of material. It has many properties, unlike similar compounds. Also, the material itself isn't a true crystalline compound to go on flames.
At What Temperature Does It Ignite?
There's no direct measurement of ignition temp for glass. Different strokes for different types of glasses. And Researchers are yet to establish an exact point or range of ignition temps for everyday glassware.
Car window glass tends to ignite at 415°C depending on other factors. Some window glasses don't even ignite at all. As the material is non-combustible and non-flammable, you can skip its self-ignition risks.
Is Glass a Fire Hazard?
Glass doesn't catch fire and doesn't even help others burn. So, there's no fire hazard related to the common glass elements. Extremely high temperatures can cause the glass to spread over other materials.
It can lead to violent chemical reactions due to high temps. But the stable silica still shouldn't associate with fire breakouts. Technically, glass is already a well-burnt product that can't be burnt again.
How Do You Put Out a Glass Fire?
There's no such thing as glass fire or fire associated with glass. So, no question related to its possible extinguishing has any point. But you can use CO2 or water to put out a normal fire involving glassware.
But it's not the case for chemical fires or breakouts resulting from chemical reactions. You better leave the extinguishing to firefighters. These fires are nasty with toxic gases and even severe chemical burns.
What are the Flashpoint and Melting Point?
The non-flammable and non-combustible materials have no flashpoint. This temp is only available for scientifically fire-prone things. And standard glass has nothing to do with catching fire at high temps.
The common glass type's melting point remains incredible at 1400°C – 1600°C. No wonder why it's difficult to catch fire. Even the worst fire breakouts barely obtain such high burning temperatures.
Can Glass Explode on Fire?
The chemical structure of glass remains intact up to a specific limit. There's no way to get anywhere near the temperature naturally. It takes special conditions and a particular environment to reach there.
Even if glass melts, it'll barely flow and cover surrounding materials. The structure is still intact, but it can set others on fire. No explosions should occur from glass alone due to its no-flame properties.
Glass Breaks During Fire
A fire breakout mostly causes the glass panels to shatter into pieces. Also, you can see cracks on many glass panels after extinguishing. You may wonder why the stable material falls apart during fire events.
An apartment or house on fire requires oxygen to keep burning. And the flames tend to move towards openings like windows and doors. However, automated burning can't initiate uniform heat waves.
The discretion in heat causes the glass panels to expand randomly. But a glass panel isn't designed to handle such random expansion. It eventually causes the surface to crack or shatter to pieces on heat.
What is Fire Glass?
Fire glass is more like tempered pieces of glass for decorative purposes. They are mainly added to fires to induce an aesthetic look. That's why many even consider fire glass to be flammable or combustible.
However, fire glass is nothing but recycled ordinary glass pieces. It features lower flammability due to the small molecular chains. Even this scientific effect is insignificant, given its high melting temperature.
Throwing fire glass into the pits or flames won't give you anything special. It'll burn like ordinary glass. An eventual rise in temps may cause a slight meltdown which is very unlikely due to the confined burning.
Fire-Resistant or Fire-Proof Glass
Modern-day fire safety regulations are based on many fire-impervious materials. And you can install glass panels with fire-resisting properties. These glasses are like normal with some chemical changes.
Glass doesn't catch fire or help others to get burnt in any way. Still, you don't want the flames to get through the glasses for oxygen. That's where fire-resistant or fire-proof glass helps regarding safety.
Frequently Asked Questions
Does fire destroy glass?
Rapid heating sends a thermal shock to the glass surface, causing crack/breaks.
At what temp does glass crack/break?
Poor thermal conductivity causes cracks/breaks in glass at 302°F – 392°F.
Can glass melt in a campfire?
The glass shouldn't melt in a campfire due to a lower temp than the melting point.
How long does it take for glass to break in a fire?
It depends on the extent of the fire. But it can take about 7 – 10 minutes.
How hot is too hot for glass?
1000°F or 538°C room temp results in 850°F or 454°C in glass to cause a break.
verdict:
Incredibly durable glass has nothing to do with a fire breakout. But a thin glass panel can't stand the differentiated heat during fires. It eventually breaks down to pieces against the flames.
Otherwise, you shouldn't worry about glass panels or glassware. But it's always good to stand on the safe side. So, having fire-resistant or fire-proof glass in the openings seems reasonable.